Xord organized the biggest Web3 event in Pakistan, Web3 Disrupt: KHI Edition, in collaboration with IBA Blockchain for Business Club. The conference took place on November 6th, 2022, at the IBA Main Campus in Karachi. Web3 Disrupt was highly-focused on bringing the Web3 ecosystem to Pakistan and making people aware of the Web3 movement. The event was a huge success, with a massive footfall of 700+ people and a highly engaging audience ready to step into the world of Web3.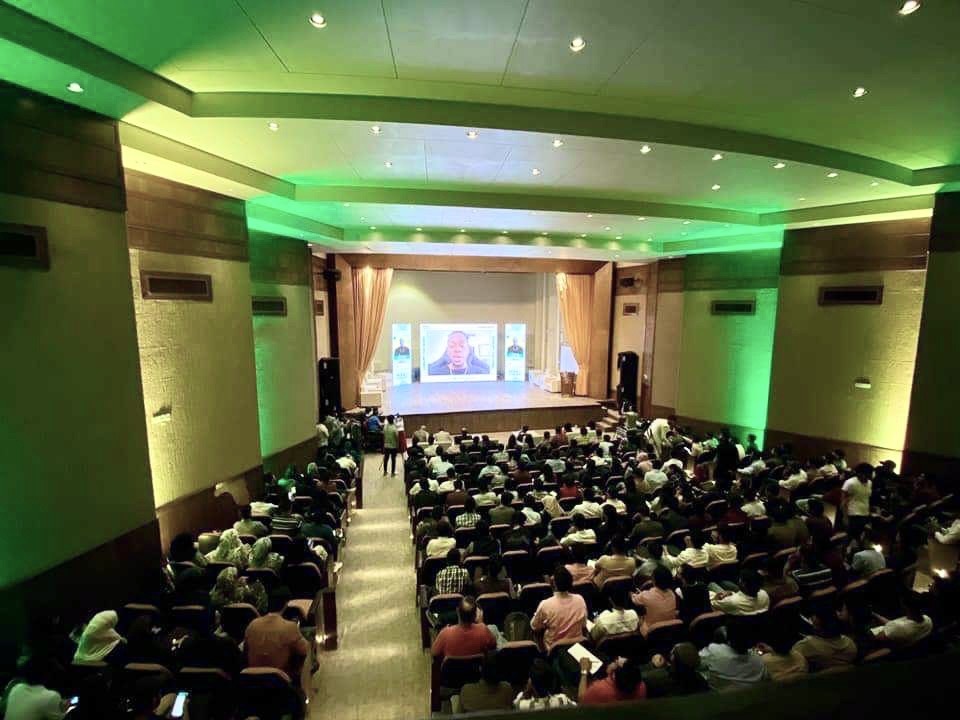 With LBank as the Gold sponsor, Web3 Disrupt featured speaker sessions and panel discussions. Along with multiple workshops, a hackathon, and career counseling for the attendees to get a chance to talk to professionals working in the web3 space and kick-start their careers in Web3.
Hosted by the talented Hassan Bin Shaheen, Web3 Disrupt incorporated speaker sessions by local and international industry leaders. Including Matt Sorg(Tech and Product leadership at Solana Foundation), Yurii Kyparus(Co-Founder at Wallchain), Mehdi Farooq(Senior Tokenomics Analyst at Animoca Brands), Tyreek (Web3 UX Researcher at Consensys), and many more. They talked about how Web3 is taking the world by storm and where we are headed. Moreover, they focused on highlighting the different aspects of Web3, such as community and DAOs, Web3 Design and User Experience, enterprise blockchain, and tokenomics.
Web3 Disrupt also held panel discussions to educate people on the ever-evolving world of Web3. Moderated by Krinza Momin (DevRel at Ankr), the first-panel discussion focused on the future of metaverse, NFTs, and gaming. The speakers included Choudhry Bilal(CTO at Manifest Studios), Pashmina Noor(Senior Software Engineer at Metaschool), Syed Noor(CEO at Expedite), and Asad Ali(Creative Lead at Expedite). In contrast, the other panel discussion centered around the blockchain trilemma, where the professionals from Xord talked about the scalability problems and how they can be solved. Abdur Rehman Jamil(Financial Engineer at BlockApex) moderated the panel, and the speakers included Asad Naeem(CTO), Shakeib Shaida(Head of Research), Abdul Sami Jawed(Blockchain Security Researcher), Moazzam Arif(Chief Smart Contract Auditor).
Besides this, Web3 Disrupt arranged multiple workshops; Blockchain Genesis, SDLC on Steroids, and UX in Web3. 220+ participants attended these workshops and got hands-on experience building in Web3 under the guidance of developers and researchers from Xord.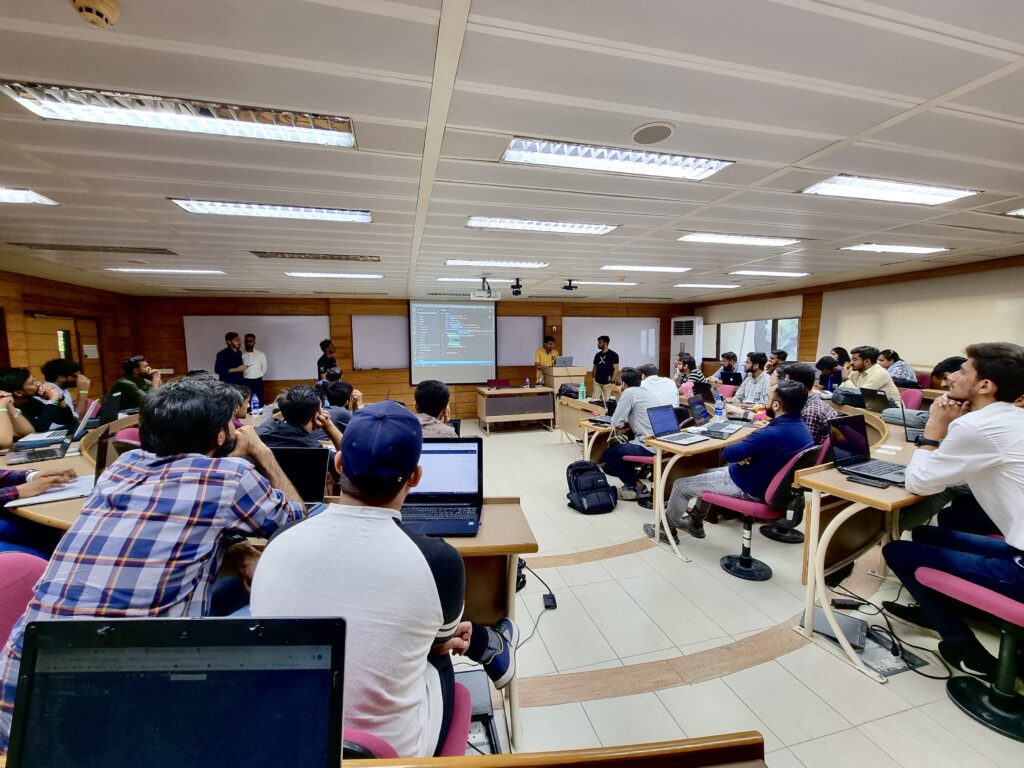 Moreover, after a week-long hackathon that included mentorship from Xord's very own developers, the hackathon winners amongst the 70+ teams who registered were announced on stage on the event day. The winning team, CodeFellas, was awarded 125,000 PKR, the runner-ups, Webnitians, were awarded 80,000 PKR, and the winners of the Xord track were given 60,000 PKR for their efforts and incredible work on their ideas for the hackathon.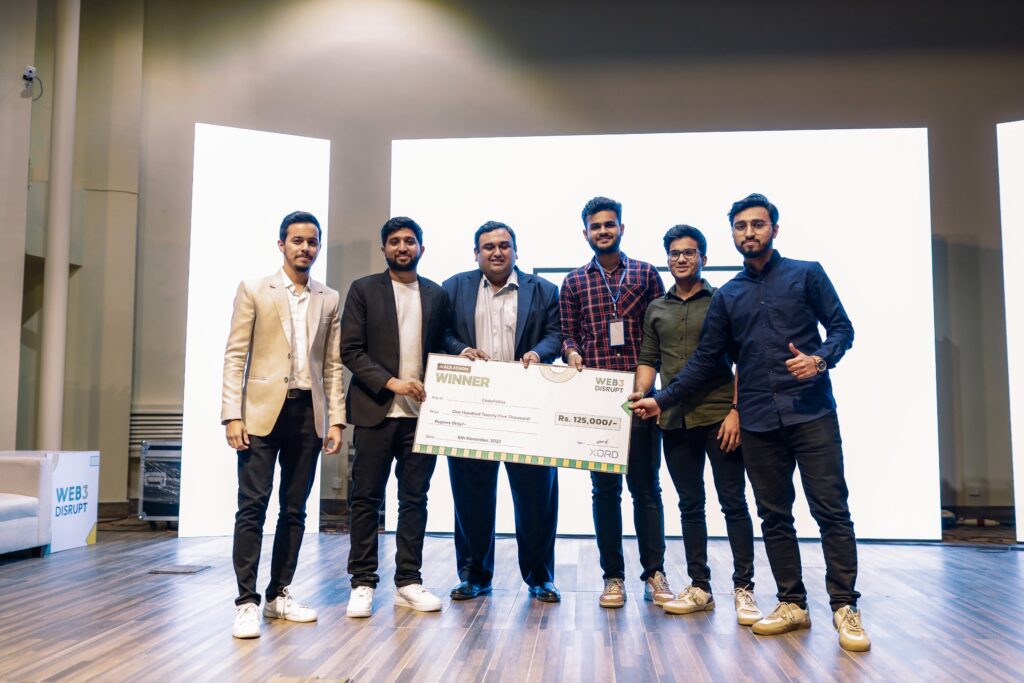 Web3 Disrupt also held a career counseling booth where the attendees could walk in and talk to the Xordians. Xord's talent management team guided 80+ people regarding the variety of domains of Web3 that they could work in, such as blockchain development, blockchain security and auditing, design in Web3, and Web3 research. The career counseling was focused on guiding the attendees to get started in Web3, along with the technical expertise they needed to develop. Furthermore, Xord's talent management team also conducted a couple of interviews during the counseling sessions.
Apart from swags, POAP NFTs were awarded to the event attendees for joining Xord in its movement of making Web3 mainstream in Pakistan. Not just this, the workshop attendees, hackathon participants, and winners also got special NFTs for their contribution to the event.
Web3 Disrupt was a one-of-a-kind event and completely focused on Web3. It constituted a full house throughout the day and stressed the importance of technological revolutions. This event proved to be a huge success, where people got a chance to understand Web3 on a deeper level and connect with the professionals working in this space. Xord aims to continue hosting such events in the future for Web3 enthusiasts to accelerate the adoption of Web3 worldwide.
Community Partners: BlockshipDAO Metaschool
Media Partner: Startup Pakistan
To learn more about Web3 Disrupt, visit the website.